Passionate Red Wine Lovers Welcome

---
What is it about Red Wine that we crave? Is it the taste? Is it the experience of sharing a good glass of wine with a friend after a long day?

Perhaps it's the vision of the beautiful European and California wine regions that produce it. I love to think of the rich history behind the wine making process.

Many of my good friends and family have heard a great deal about the potential health benefits. They enjoy a drink now and then and figure they might as well drink wine if it could be good for them.

For me, my greatest joy comes from finding a great bottle in the $10-15 range that taste closer to more expensive red wines costing $50 or more.
We have all been to parties where wine was served. Do you remember the general mood of the event?
Was everyone relaxed, talkative and friendly?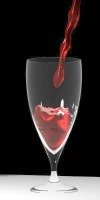 It is our experience that when the wine bottle is opened, The Party Begins!
Let me introduce myself, my name is Deborah and my husband and I are from a large ethnic Greek family. Not quite like the family in the movie, "My Big Fat Greek Wedding", but close.
We enjoy great food, wine and closeness of family and friends.
We are thrilled that you have found us and know that you will find many valuable tips, recipes and wine recommendations on our site.

We are dedicated to providing information to both the novice and experienced drinker. We will offer many wine recommendations and provide many places throughout the website where you can share your favorites with us. Also, we hope you enjoy the unique gifts we feature on our site for that special wine lover in your life. They will make your life much easier during the Holidays or anytime a special gift is needed. Our gift giving guide will lead you to some truly amazing wine gifts at very reasonable prices.

Finally, we have taken a great deal of time in providing information about red wine rating. One of the greatest pleasures in life is finding that perfect bottle of vino. But why is it perfect? What qualities do you find pleasing?

Once you are able to identify this, selecting quality wines each time becomes a snap. We summarize it all here for you.

We invite you to explore the wine regions of the world with us or just drop in every now and then to pick up a good wine recommendation.

This site is truly a labor of love and passion. If you have a love and passion for red wine then please join us. Explore our site and contribute when you can so that we can all benefit from each others experiences and wine recommendation. We truly hope you ENJOY!