Body of a Wine


Full Medium or Light
---
---
Body of a Wine simply refers to the weight or heaviness of the wine in your mouth.
One way to understand this is to think of the differences between the feel of skim milk (light), whole milk (medium) and heavy cream (full) when in your mouth.


The lightness or heaviness referred to as the body of a wine can also be linked to the level of alcohol content present. Alcohol can actually be felt rather than tasted. For instance, there are light red wines such as Beaujolais that contain (8 to 9 % alcohol), medium red wines such as Merlot with (10-12% alcohol) or full red wines like Zinfandel with (14 to 17% alcohol).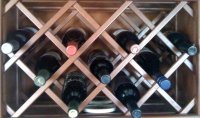 Red wines range from light and delicate to full and velvety. The difference between a light wine versus a heavier or full wine is not about the quality, but of preference and occasion. What one serves for food may have a large impact on the wines chosen.


Food and Wine Pairing - is the art of selecting the best wine to compliment the meal.


                      Red Wine Varietal by Body type:


1) Light-Bodied Red Wines are as you would suspect, light and fruity. A popular wine in this category is made from 100% Gamay grapes called "Beaujolais". It's meant to be consumed young. Beaujolais can be chilled. Wines such as Pinot Noir can be light or medium depending on the region producing the wine. Pinot Noir produced from (Southern France) tend to be a light and fruity varietal.


2) Medium-Bodied Red Wines can vary quite a bit according to where the grapes are grown. Some common wines in this class are Grenache (Southern Rhone), Shiraz ( Australia) and Pinot Noir ( Northern France and the US).


3) Full-Bodied Red Wines are typically heavier wines such as Sangiovese (Chianti Classico Riserva), Cabernet Sauvignon ( US and Bordeaux ), and Zinfandel.


Visit Types of Red Wine for more information on Red Wine Grapes, Regions and Varietals.

Back to Red_Wine-Passion