Michigan Wines

---
---

Michigan wines can hold their own when compared to other wines around the world for the simple fact that Michigan is located on the same latitude as world renowned wine regions in Europe.

The wines from this region are very fruit forward, low in tannins , food friendly and European in nature.
Top 3 Michigan Red Wine Grapes

Cabernet Franc

Pinot Noir

Merlot
The 4 Most Popular Michigan Wine Trails
1) Lake Michigan Shore Wine Trail


2) Leelanau Peninsula Vintners Association


3) Old Mission Peninsula Wine trail


4) Southeast Michigan Pioneer trail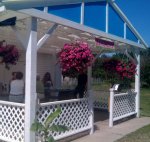 The Blue Water Winery is one of the newest wineries from the Southeast area of Michigan. Located in Carsonville on beautiful Lake Huron, they offer seven wine varietals from sweet to dry. Although, this is a Red Wine site, I must say that their white wines are outstanding and were enjoyed by all.
The tasting room is very quaint and outdoors. Their signature red wines are their award winning 2007 Cabernet Franc (Finger Lakes International Bronze Award), and their American/ French hybrid red wine called 2008 Chambourcin. We visited their beautiful winery where Steve gave us a tour of the vines and talked about their specific grapes and wine making techniques. We also learned about how they make their premium Cabernet Franc ice wine.
They were featured in the Oakland Press "Best of the Best 2010". Transplants from the Chicago area, Connie and Steve purchased the Holverson farm in 2004 and in 2006 planted their first Chardonnay. Cabernet Franc and Pinot Noir vines. In 2009 they opened the vineyard for tours and tasting.
Nestled between two beautiful marina towns, Port Sanilac and Lexington it it is well worth the drive to visit.
For more info please visit: Blue Water Winery.