Zinfandel Wines
A Red Wine Powerhouse


---
Zinfandel wines made from the "Primitivo grape" can vary remarkably depending on where the grape is grown and how it is vinified. The final wines can be of a white, rose or red wine type.


These grapes are versatile and usually result in wines that are extremely rich in color and very aromatic. This grape has two harvests: one in early September and one at the end of October (which usually yields a smaller amount).


Zinfandels or "Zins" offer an array of flavors including black and red fruit, spice, pepper,wood and licorice. It can be produced in 3 very different styles or "bodies".


                  Zinfandel Red Wine Regions:

California - some of the best Zinfandel wines are from the Lodi Region, an area between San Francisco Bay and the Sierra Foothills. There are many outstanding Zin wine producers in the California area. It is the most widely planted grape in this area.

Italy - also made here but is better known by the following names: Primitivo di Goia, Primitivo Nero and Primaticcio.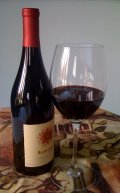 Food and Wine Pairing:

*Light-Bodied - are the most popular. They are light and young and made to drink upon release. They are great with food and very reasonably priced. Ravenswood makes a light bodied Zin. Try as an appetizer with cheese.

*Medium-Bodied - are usually higher in tannins and may have more fruit flavors. They also have more spice and a longer finish. They pair well with venison and lamb.


*Full-Bodied - are deeper in color and richer in taste and have the capacity to age much longer. Many of the full-bodied Zins are produced by very old vines. The alcohol content of this full-bodied wine can also top the 15.5% range. This may explain why a popular "Zin" from this category is called "7 Deadly Zins". Try these bold reds with Red Meats and dishes with heavy cream sauces.


Tell us about your favorite Zinfandel wine by visiting our Red Wine Recommendations page.