Sangiovese

---
---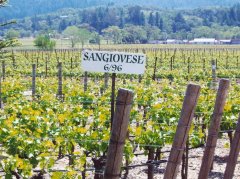 Sangiovese [San-jo-vay-zay], is the most widely planted grape variety in Italy, where the grape's homeland is Central Italy.


This grape produces a fine Italian wine which can vary according to where the grapes are grown. Throughout Italy, it is known as Brunello, Morellino, and Prugnolo Gentile.

Throughout Tuscany, the wines are crisp and lively with cherry fruit flavors and ripe tannins. Often times the wines result in dry italian red wine depending on the wine makers techniques.


Depending on the winemakers aging process, red wines made from this grape can also contain complex flavors of tobacco and coffee. Winemakers are moving towards softer tannins in the final wine by aging in new oak barrels.


The actual grape at maturity is a deep blue to dark black color. It is an unpredictable grape, generating many variations from one grape clone to another. The grape requires constant sunlight but cannot tolerate excessive heat.



 Sangiovese Wine Regions:

Tuscany- the best Italian Sangiovese wines are produced here. It is the main grape used in popular red wines of this area. It is the solitary grape used in wines of Chianti.


This region is known for its long warm summers as this grape requires a long growing season to ripen fully. Winemakers in Tuscany have found that this grape is often high in acidity and light in body and that it is greatly enhanced when blended with cabernet sauvignon.

United States- winemakers here have learned to manage this grape to produce high-quality softer tannin varieties. It is planted and thrives in California and Washington State. "New World" wines are called fruit forward due to the higher level of cabernet sauvignon grape introduced.

Argentina and Australia- expect to see more wines produced from this grape from these regions in the near future.



Wine and Food Pairing:

Due to its high level of acidity, these wines are magnificent with food. Try it with any meal that has a tomato base. Of course it goes very well with tomato based pastas and pizza sauces.


Heavier bodied Sangiovese that are blended with Cabernet Sauvignon or Syrah and aged more in oak will pair better with grilled meats and smoked foods.


Please just remember that it is perfectly fine and preferable to experiment with different food and wine pairing combinations. You may find that you enjoy a certain type of red wine that is not traditionally recommended with your meal.

Remember it is all a matter of taste when selecting which red wine is your favorite.