Chateau De Fontenille 2007 Bordeaux
by Rachel
(Boston)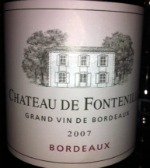 I host our holiday get together every year with my family. My sister-in-law spent 5 years in France and is in love with the European Red Wines. She always brings wines from France and this year she brought me 6 bottles of Chateau De Fontenille 2007 from the Bordeaux region of France. It was excellent. In fact, it was so good I didn't even serve it. I feel bad but I put the extra bottles aside to enjoy with my husband and friends at another time.

I went on wine-searcher.com and found 3 local wine stores that carried it. It costs approximately $13.00. One of the stores actually offers 10% off if you get 4 bottles or more. It was carried by wine.com but it is SOLD OUT! I highly this wine recommend. It is smooth with a long pleasant finish. I enjoyed it without food but I imagine it would have been excellent with a steak or a pasta meal.

As with all Bordeaux wines, it is a blend of several grapes. This one is 60% Merlot, 25% Cabernet Franc, 15% Cabernet Sauvignon.

Well my sister-in-law always said that Americans concentrate too much on wines from California and really should expand their tastes to other great wine regions. I finally agree with her. Try it. You will love it.