Grenache Red Wine

---
Grenache red wines are sweet, fruity and very low in tannins. This grape ripens with a very high sugar level and can produce wines with a 15-16% alcohol content. The grape is thick skinned with abundant juice.

It's characteristic fruit flavors are that of strawberry and raspberry. It can vary greatly in the texture of the final product. This grape produces red wines of a variety of light,medium and full bodied types.

It is the most widely planted black grape worldwide. Although it is rarely seen as the primary single wine grape on red wine labels, it is very versatile and blends well with Syrah , Mourvedre and Cinsaut from France. It also blend well with Tempranillo from the Rioja Region.

Grenache Red Wine Regions: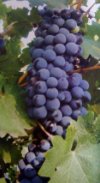 Spain- the most widely cultivated red wine grape in this area. It is called "Granacha Tinta". It is grown in the hotter areas of Spain such as, Carinena, La Mancha, Penedes and Rioja. In this region delicious dry rose wines are made from this grape. Granachas can also be made from old vines of darker grapes that produce rich full bodies earthy wines. Some of the older vines are as old as 30-40 years. This region is exploding into the wine world. With a variety of wine types, it can produce inexpensive red wines and also those that can compete with other prominent wine regions of France and California.


France - it is grown in the south of France. In this region you can find the most delicious well balanced blends with Syrah.


California and Australia - grow this grape varietal in large scale to produce inexpensive red wine in high volume amounts. However, there are some older vines in Australia that are now producing big, fruity red wines.

For more information on red wines varietals please visit red wine types.